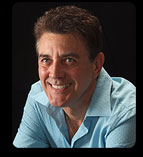 Deney Terrio is one of the original pioneers of the Disco Dance era and the coach and choreographer who taught John Travolta how to dance for the movie Saturday Night Fever. Of course Deney would never have been given the opportunity had he not been an incredible dancer and showman himself. He was hand selected and given the challenge of transforming Barbarino (Travolta's TV character on Welcome Back Kotter) into Valentino. The dance routines that Deney created and taught Travolta have become timeless classics and his infamous "Finger Point" has become the single most recognizable dance pose in history.
Deney utilized his talents to become the host of the television musical variety show Dance Fever. The shows format was the first competitive dance show to utilize celebrity's judges and award a weekly winner. This show is credited with being the show that inspired and helped bring Dancing with the Stars, So You Think You Can Dance, and others into the recent limelight.
Currently, Deney can be heard weekly on his nationally broadcast show Saturday Night Dance Party that airs on both XM and Sirius Satellite radio.